Versus the manic pace that the world of silent cinema once presented to the collector via the endless number of releases in the period running roughly 2000-2009--I want to point out that I am specifically talking about the realm of home video on digital disc--the present market is very slender indeed.
For example, back in these years, we had a large number of companies releasing silent films on DVD at a relatively regular clip: Kino International (pre Lorber days) and Image Entertainment were without question the market leaders. Adventurous titles like Warning Shadows (Robeson 1925), Waxworks (Leni 1924) The Love of Jeanne Ney (Pabst 1927, and one of his best films and my personal favorite by him, even beyond the Brooks films), The Golem (Wegener, 1920), Caligari and Orlac (Weine), A Fool There Was (Powell, 1915, and one very grim picture), Cabiria (Pastrone 1914), Asphalt (May, 1928), A Cottage On Dartmoor (Asquith 1928),  the Stillers, the Sjostroms, the Fairbanks titles, the Griffith titles, the Stroheims, Eisensteins, Valentinos, Langs, Murnaus, and many other one-offs (Gay themed films, odd one-off's like ALIBI, the Jacques Tourneurs) constitute titles that Kino released during the heyday of the DVD age.
Image Entertainment which also included Milestone Films back in those days released their own fabulous litany of titles: the Joe May Indian Tomb two parter, the first DVD of Dr Mabuse der Spieler, the three Eisenstein silents, plus their own releases of some of the Fairbanks classics as well as classic German titles like Nosferatu, Caligari--many of which Kino had released but Image released with David Shepard's Film Preservation Associates, their own one-off's like Lang's Destiny, Chaney's Universal classic Hunchback and Phantom, plus double packages like Shadows/Outside the Law, Nomads of the North/The Shock, along with the DeMille silents, a couple of key Carl Dreyer silents such as The Parson's Widow and Leaves From Satan's Book (both roughly 1920), Louise Brooks double The Show Off/The Plastic Age, The Lost World, the Dziga Vertovs, the Pudovkins (The End of St Petersberg being one of my favorite silents ever), the Dovzhenkos (Earth, Arsenal ditto) .  .  .  and I haven't even moved over to Milestone or Flicker Alley yet.
What has happened?
Well, for one thing, the Eclectic Video Store has perished as a retail species in the life of our big cities. I can't speak to small cities because I don't live in one. But I can only assume that the situation is the same elsewhere as it is here: the street level physical video store is virtually nonexistent.
For one reason or another, the world has changed: art product is rarely if ever purchased from stores any longer. Whether this is because the present generation doesn't perceive artworks or pieces of entertainment to be viable products to be paid for any longer, or they simply have no interest in visiting physical stores for the instant gratification of grabbing a product and taking it immediately home to watch it--or perhaps the online retailer can always beat the price of the brick and mortar retailer .  .  .  or perhaps lastly, the world of online file sharing/torrenting/p2p/general piracy has sucked the viability right out of the concept of storefront retailing of video and audio entertainment. People do not merely wish to pay less--they don't wish to pay at all.
Book stores will be kept for a separate conversation.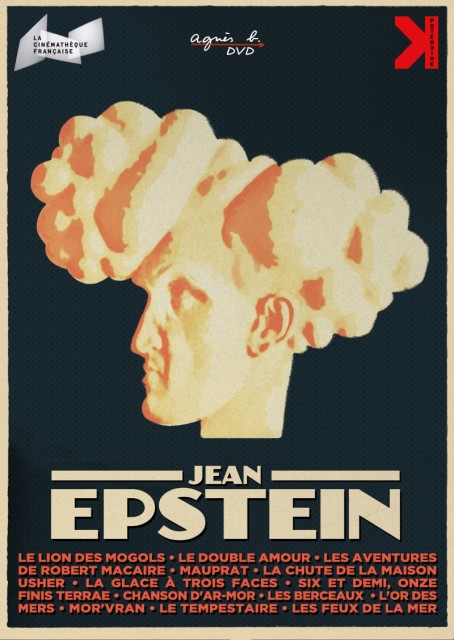 An example of the rare and the sublime. (Image courtesy Potemkine)
The tempo mentioned above was a positively manic one. For every title mentioned above, there are probably five to ten not mentioned. I haven't mentioned any Masters of Cinema, any Danish Film Institute, British Film Institute, Transit Films, Divisa Red, or any of the often rather interesting albeit poorly transferred/awful source element products put out by bottom of the barrel distributor Alpha .  .  .  who nonetheless put out some interesting titles--without which we would have no idea what (for example) Roland West's The Bat (1925) would look like. 
Don't get me wrong--titles do come out. As evinced by yesterday's article focusing on E.A. DuPont's Variete (1925), in all of it's bad-score glory. Not long before this we had a revisiting of classic titles from Lang and Murnau from Masters of Cinema and Kino/FWMS, plus the fabulous restoration of Caligari which made it to Blu Ray recently.
But more critically--and more relevant to this article-- is the set put together by French label Potemkine which gathers up the titles of now only-somewhat-obscure French Impressionist master Jean Epstein into a full Coffret Set. Epstein is a man I've been championing relentlessly for almost a decade now. Occasionally by Criterion's Eclipse label we will get some silent Japanese titles by Naruse or Ozu. Or even Carl Dreyer's Master of the House on the main CC label.
And of course, we have Masters of Cinema seeing to it that the classics, when scanned in hi-def by the primary rights holders, will be put out for distribution in their region with wonderful presentations and extras. 
But in the overall, we must admit, the world has changed in a way that makes the tempo of restorations-to-HD scan-to-disc (dvd or BD) extremely slow versus what it once was. The industry has ratcheted back to a virtual creaking crawl. The days of Rupert Murdoch's Fox releasing gigantic boxes appreciating John Ford from the silent era and forward, or Frank Borzage and FW Murnau at Fox, are long gone and likely to not be seen again. Sad for us.
Things often do go in waves, but it is rare to see an industry--once dead-- resurrect itself. The changes that take root in the psyche of a generation often get nailed down for long term posterity.
Will we see video stores start opening up again with tons of DVD's and Blu Ray's up for retail on shelves again? Will all the fabulous titles waiting to be put out on home video after well known restorations--or simple screenings of very good prints--are confirmed as being in existence, will these start suddenly coming out again in a second golden age? Will the Lupu Picks, the Arthur von Gerlach's, the Wegeners, the Karl Grunes, the Lamprechts, the Jutzis, and so many more .  .  .  will these find their way out to the light of day in digital format?
We may as well ask--will we see a day when popular music returns to the qualitative levels of the immortals of yore, ie acts on the level of the Beatles, the Stones, Hendrix, Cream, The Temptations, Four Tops, Marvin Gaye, David Bowie, Velvet Underground, Dylan, Aretha, the Doors, King Crimson, the Fifth Dimension, Johnny Cash, Zeppelin, all the jazz greats of yore like Miles Davis, Mingus, Archie Shepp, Coltrane, Dolphy, Sinatra, etc.
Just think that there was a period where all of these acts were out and about and performing all at the same time. And tickets were five to ten bucks, if even that.
It's a rapidly morphing world, my friends. 
Ciao until next time.
---