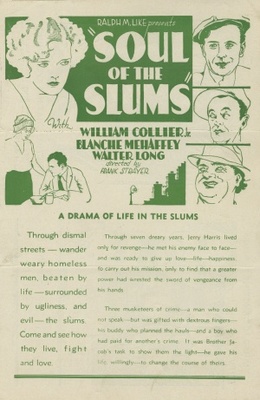 Soul of the Slums (1931) Since no poster from Sin's Payday exists,
I'll provide one for a similar Like Production. 
Well- I didn't hit my ambitious goal of getting Nosferatu's commentary up this weekend owing to a good reason .
 .  . a house I had put up for sale (I still have a hand in RE) for a good number of months finally found a buyer. It was quite a journey, as I took the property assignment way over in the west Bronx in Morris Heights (the area of my birth) because the owner of the property is a wealthy psychiatrist on Roosevelt Island with a large network of wealthy friends .  .  . so, ya gotta get your foot in the door with the rich if you want in that bizzz.
Anyhow the process was a bit depressing as offer after offer after offer (after offer, I had five total offers including this successful one) fell through as each potential buyer was unable to get a loan from the bank to mortgage their purchase of the place. A depressing scenario for sure .  .  
Anyhow, this depressing backdrop of the have-nots is a good enough place for me to begin my essay on a bitchin' little film that I watched at 5am this morning after finally crashing yesterday evening at 7:30pm: The Slums of New York, which is also known by the title Sin's Pay Day.
This is a--drumroll--Ralph Like Production, made in the Pre-Code year of 1932 in Los Angeles (despite the promising whiff of gritty location shooting on the streets of New York. No dice).
The film stars Forrest Stanley, who was a relatively well-known face from back in the silent and early sound era; cineastes who take in at least the better known cream of the better known films from the silent era, especially those that carry a whiff of German Expressionism .  .  . these will recognize him as "Charles Wilder" from Paul Leni's dazzling The Cat and The Canary for Universal in the banner year of 1927. Those who've seen this film and remember at least some of it will easily remember Stanley's part, as it is he who was responsible for the going's on that scared the living crap outa Laura LaPlante's character--he was the one putting silly plastic fangs and bug eye's and humping around through cellars with hair and fake nails pasted to his hands to look like claws. Lovely little Charlie Wilder, the old protege.
In Slums of New York, Stanley plays James Markey, criminal defense attorney making beaucoup bucks in the Big Apple during the Great Depression and Prohibition. The extremely short film, which--at least as it has come down to us today--runs under one hour, opens at Markey's estate, introducing us to each character and making short work of efficently distinguishing them all from one another.
Splishing and splashing around a pool in what looks like a posh suburb of New York--could be Long Island, could be around the Jersey Hills across the bridge, could be up in Westchester a la Scarsdale or Bronxville--Markey's guests are having a blast while consciously ruminating for a brief moment that it must not be an awful lot of fun being poor. We are shortly introduced to Markey's wife, played by then very-well-known Dorothy Revier, a vamp of the silent era who reached her peak opposite Douglas Fairbanks Sr.'s The Iron Mask.
We catch Markey in his office taking a massive payment from the underworld to get off known mob boss "Louis Joe" played by venerable character actor Harry Semels (the guy could play anything, from stooge to terrifying gangster). An underling of Joe hands Markey five grand, then a huge amount of money to defend the incarcerated Joe in court, as he is on trial for his life for a murder that everybody with any sense knows he obviously committed. 
In other words--in terms of criminal defense lawyers, Markey was the Barry Slotnick, the Bruce Cutler of his day. As he discusses the case and takes the payment from a stooge of Louie Joe, we catch Markey's wife listening in as she was about to fetch Markey, unaware he was occupied with business in his office, and couldn't help hearing the conversation about "If anyone can get the boss off, it's you Markey," on the approach.
A backstory is instantly revealed, that is almost a dry run for the first half of Caught by Max Ophuls. Iris Markey, a woman of conscience, doesn't mind living in surroundings of luxury, but her inner voice can't stand the idea that she is living on the money of gangsters and their incessant murders. She asks her husband not to defend Louie Joe, and to walk away from the case .  .  . start over, work clean, let's give it a new go with our consciences clean.
*           *           *
With a title like Sin's Payday, it's no mystery where the plot goes from there. Markey keeps the case, but his pretty and decent-hearted old lady walks away from him--striking out on her own to go work for a (wait for it, Caught fans) medical clinic run by a doctor doing it for the heart and soul of the job and not the money. And--minor detail--the doctor was competing with Markey for the affections of Iris before she married Markey. 
The copy of the film that I watched was from a private telecine off of a badly contrast-blown 16mm print which was discovered back when the film was apparently still considered lost. Since then Alpha has released the film in DVD, with their usual take it or leave it this is all we got ethos .  .  .  which, from three to five bucks a pop is very difficult to argue with. There's even an upload of this (obviously public domain) film now on YouTube, which has either been contrast adjusted or is a completely different print entirely.
What the film also reminds of a bit, in rendering a man who plays heavy and deep with the underworld, loses love, and hits the skids (though this is not the end of things for Markey.. no spoilers here) is the Cagney character in Raoul Walsh's sublime The Roaring Twenties. Once Markey loses his wife, Markey loses himself in alcoholism, and begins to completely disintegrate into the skids, eventually winding up a bum with no place to stay. As one would expect, since his wife is working in a clinic for the downtrodden and the hungry in Manhattan's grotty East Side, their paths are going to cross. 
What makes the film so interesting is that--although you think you have a sense where the film is going to wind up in the end--and in that sense you would only be somewhat right--it doesn't play out quite the way you think it would. What I will single out for particular note is the fact that while Markey is down at his worst state of disintegration, at his lowest point, about to faint from malnourishment and tottering as though he were drunk (he is not), who comes to his rescue but the astonishing little (VERY little) Mickey Rooney .  .  .  then still billed as Mickey McGuire from his short comedies. 
I assure you of the following: from the moment that tiny little Rooney (an eleven year old who looks like he's seven) walks on the screen with his explosively charismatic personality, all the way through to his character's absolutely unbelievable exeunt, you will be glued to the screen and completely astonished. The kid walks away with the movie as the obviously most naturally-gifted actor among the cast, his Brooklyn and vaudeville roots completely filling every set that he walks into with an air of shabby NYC yesteryear.
The film commits a cardinal sin of narrative enterprise with Rooney's character, and majorly head-trips the audience for it. Nonetheless, this device takes what might have been a predictable and formulaic ending and pumps it full of hydrochloric acid.
Like most Z budget films from the era, and especially those from Like's various production companies, certain crew and or cast repeat themselves. In this case it's the ever-reliable-in-a-pinch cameraman Jules Cronjager, a German who began working in Hollywood in the mid-Teens, and worked up to the 1930's, working constantly as an ol reliable in any genre: westerns, crime dramas, horror, mystery, the man did it all and could do it with a buck and five minutes studio time. He is also the uncle of Edward Cronjager, who also got his start during the silent era, but rose to A studio level work during the sound era and a much more "respectable" career than his older uncle Jules, who was already 60 years old at the time of Slums of New York and would die just two years later (sadly, Edward didn't even make to 62 years of age; he died in 1960, aged 56).
In addition we have George Seitz (not related to cameraman John, though they knew each other and shared projects) at the directorial helm; Seitz directed Revier in The Tigress (1927), as well as the little known supernatural thriller Thirteenth Chair (1937)... but for Ralph Like he directed my favorite of these rough and tumble little B's that Like produced, The Docks of San Francisco from the same year of this film Slums of New York (1932).
This is a worthy little time capsule of the era, and a rather entertaining way to spend a little bit less than 60 minutes. Perhaps formulaic in the big picture, the film remains unpredictable in its little twists and turns .  .  . the strange little aspects that keep these films ever-charming, ever entertaining, ever surprising, and ever differentiated from the A list fare that we are accustomed to seeking out from the long lost days of Hollywood Yesteryear. It's a great little unfiltered, edge-rough look into those long vanished days of incredible poverty and crime, of jive talk of the have-nots, of murderers, tremendous monetary depression, and Prohibition graft and gangsterism cramming any hope of good news off of the front pages of the newspapers. It's far from a masterpiece, but if it was it probably would skim off much of the slanted roughness that allows so much of the above elements in and make these films such a delicacy, all these many years later. 
Clive/Schreck
3/30/15***
---